Washington, DC April 2, 2021 – Reports are coming in that there has been a blue car, late-model sedan with aluminum wheels, that has rammed two police officers on the North entrance of the capitol in Washington, DC.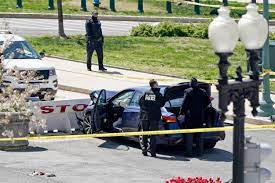 Suspect dead and one Capitol officer dead
The suspect is reported to have had a knife when exited the car and lunged and ran towards officers.
North Barrier at Constitution Ave. The incident is over but a lockdown continues.